Hey everyone! Oniken received an update!
Oniken v1.7 now also have French language support thanks to Bobby Roy and Czech language support thanks to Vojtěch Skovajsa.
We also added an auto updater builted in it's Launcher. So when the next upate come out you guys probably will know before see it in blog our blog or Desura's ´page.
So keep an eye in the "No Updates Available"
When a new update shown up the button will be activated like this: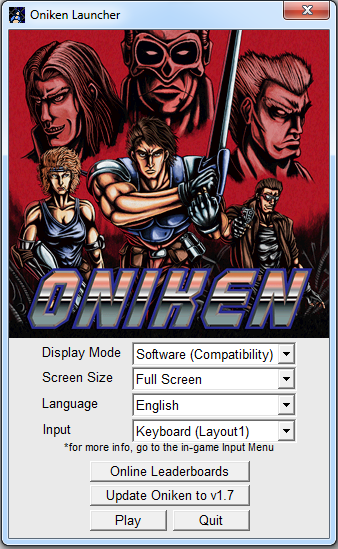 Click in Update Oniken to x.x and wait for the download finishes.
For players that haven't activated Oniken yet, it now can be activated via Launcher too, without need to use Desura's client in order to activate your serial key.
Thanks everyone and remember, if you have any questions or problems just send us an e-mail! =)
IMPORTANT
If you get any "connection error" message from the launcher in the next update, make sure if Oniken's folder isn't in a protected folder. If so, execute the launcher as administrator.