Thursday, July 21, 2011
I finished Mission 4-1!
Next step... Mission 4-2 The Forest!
Postado por

Danilo Dias
às 12:16 AM
0 comentários

Monday, July 18, 2011
During last weekend I redone an old Zaku mugshot. This mugshot was one of the first artworks I did when I began making the game. Back then I thought it was really cool and save it to use later on in the game. However, one year ago I wasn't so used to make pixel art with such a tight color scheme since I was more accustomed in doing 16-bit stuff. So now, one year later, when I got back to the mugshot, I was certain that I could do it better.
The result: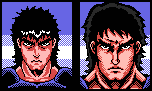 *the left one is the old version
IMO, it is much better now.
Also, I'm almost finishing coding stage 4-1. This one took a while because all enemies were new, so I needed new sprites and new coding to all of them. I'll be doing level 4-2 next week so, as soon as possible, we'll have some screenshots here!
Postado por

Danilo Dias
às 3:06 PM
1 comentários

Saturday, July 16, 2011
That was awesome. We´re very happy that our game appeared on such important websites.
Thanks everyone for all the support!
Postado por

Danilo Dias
às 4:58 PM
0 comentários