Sunday, June 12, 2011
Here some gameplay footage of mission 4.
Postado por

Danilo Dias
às 11:01 PM
0 comentários

Sunday, June 5, 2011
Thanks to my friend Macbee I was able to make a huge performance boost on Oniken. So if the version 1.0.3A suffered from any performance issues in your computer please try this new beta.
I also added the option to turn off VSYNC in the options menu.
And I´m still working on mission 4, here we have some new enemies: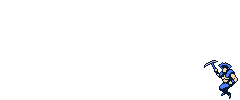 Yeah... everyone loves road warriors.
Postado por

Danilo Dias
às 9:43 PM
0 comentários